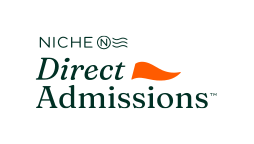 Moravian University
Overall Grade
4 Year
BETHLEHEM, PA

Rating 3.64 out of 5

506 reviews
Direct Admissions
About
NCAA Division III (with football)
Moravian University's distinctiveness begins with its extraordinary commitment to the success of our students. The faculty know you; the alumni help you, the career strategists guide you. The dedication is authentic and everywhere, starting before students even show up to campus and lasting long after they graduate.
As an Apple Distinguished School, Moravian University gives every incoming undergraduate student a MacBook Pro, an iPad, and an Apple Pencil.
Moravian's commitment to students is stronger than ever through Elevate – our distinctive undergraduate experience. It provides what students have asked for and employers demand: work experience, global study and teamwork and leadership skills, all backed by an extraordinary level of career support.
Learn more by reaching out to our Admissions Team or scheduling a visit of Campus. We can't wait to meet you!
Moravian University Rankings
Niche rankings are based on rigorous analysis of key statistics from the U.S. Department of Education and millions of reviews.
Considered but not required
Will You Get In?
Will You Get Into Moravian?
Test Scores and High School GPA for Moravian University See Other Colleges
Average cost after financial aid for students receiving grant or scholarship aid, as reported by the college.
Average Total Aid Awarded
Students Receiving Financial Aid
Professors
Based on faculty accomplishments, salary, student reviews, and additional factors.
78%
of students agree that professors put a lot of effort into teaching their classes.

32 responses
66%
of students agree that it is easy to get the classes they want.

50 responses
58%
of students agree that the workload is easy to manage.

50 responses
Most Popular Majors
Health Service Preparatory Studies
More
Programs Offered Entirely Online
Online Certificate Programs
Online Associates Programs
Online Bachelor's Programs
Mix of Online and on Campus

34%

On Campus

64%

Online

2%
Poll
What one word or phrase best describes the typical student at this school?
Dedicated

28%

They love what they are doing and do their best.

23%

Hardworking

12%

Ambitious

9%

I've noticed many who don't try.

9%

Self-centered

9%

Outgoing

2%
More
Poll
65%
of students say that Greek life is average, and no one will treat you differently if you don't join.

54 responses
Poll
48%
of students say varsity sports are a big part of campus life.

60 responses
Poll
What one word or phrase best describes your school?
Charming

30%

Expanding

13%

Well balanced

13%

Over priced

11%

Personable

11%

Expensive

7%

Underrated

7%
More
Median Earnings 6 Years After Graduation
Employed 2 Years After Graduation
88%
of students feel confident they will find a job in their field after graduation.

26 responses
Moravian University Reviews
Rating 3.64 out of 5
506 reviews
Overall, I really enjoy the campus life and the close knit community that Moravian has cultivated. However, if you do live on campus the food and access to food is very limited along with some of the dorming is not ideal and the conditions of freshman dorms are not up to par when considering the price tag attached to both the meal plan and the housing costs. The education is stellar, and majority of the professors are super kind and helpful. The classes and workload is challenging, but in the long term this is a good thing because you learn a lot! Everyone in the student body is very kind and it is very easy to fit in when it comes to the social scene at Moravian.

Moravian is a great school for a small school atmosphere. The people and the professors are great! The campus is very safe and well lit at night. Greek life is also good but the school does have a tight lease on it. The school teams other than the track team and basketball team, which are good, are not that great especially the football team. It is also a great area, only being a short walk from Main Street Bethlehem on the north campus and being on Main Street if you live on south campus. With it being a small school with smaller class sizes allows you to have a good one on one relationship with your professors instead of being a nameless face in a sea of people. Defiantly check out this school if your interested in going to a school in the area!

Moravian University is a great school to go to both for academics and extra curricular activities. They have a wide range of majors to choose from and many amazing courses and professors. Moravian is also very successful in their athletics and has a large population of the student body being student athletes. Along with this, there are many clubs and activities that are also offered at Moravian. No matter what interests you, Moravian has something that will fit your wants and needs. Overall, I have had a great experience at Moravian and would highly recommend it to anyone that is considering coming here.