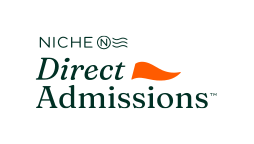 Merrimack College
Overall Grade
4 Year
NORTH ANDOVER, MA

Rating 3.61 out of 5

633 reviews
Direct Admissions
Merrimack College Accepts Invitation to Join Metro Atlantic Athletic Conference Learn More
One of only two Catholic Augustinian colleges in the US, Merrimack College is a selective, research-oriented, master's comprehensive institution with approximately 5,700 undergraduate and graduate students from 34 states and 36 countries, comprising schools of arts and sciences, engineering and computational sciences, nursing and health sciences, education and social policy, and business. The college's 220-acre campus is just north of Boston in North Andover, Mass.
Merrimack is a community filled with energy and spirit. Where big ideas become reality, passions spark careers and community service and support are at the core of everything we do. Here, we foster a culture of fun, belonging and inclusivity where affordability and accessibility to a top-tier college education is a priority for all.
Through academic excellence, experiential learning, personalized attention and cutting-edge research, we create experiences that encourage collaboration, personal growth and success.
Upcoming Events
Virtual (Zoom)

View Event Description

This convenient virtual event features current students as they show you around campus and host a Q&A session where they'll talk about their own Merrimack experiences—LIVE on Zoom!

North Andover, Massachusetts

View Event Description

At our Open House, you'll get an overview of Merrimack with an introduction to your academic school. You'll meet Merrimack faculty, students and community members and receive a limited-edition T-shirt as our thank you for coming to campus!
Merrimack College Rankings
Niche rankings are based on rigorous analysis of key statistics from the U.S. Department of Education and millions of reviews.
Neither required nor recommended
Average cost after financial aid for students receiving grant or scholarship aid, as reported by the college.
Average Total Aid Awarded
Students Receiving Financial Aid
Professors
Based on faculty accomplishments, salary, student reviews, and additional factors.
71%
of students agree that professors put a lot of effort into teaching their classes.

35 responses
47%
of students agree that it is easy to get the classes they want.

45 responses
69%
of students agree that the workload is easy to manage.

45 responses
Most Popular Majors
Criminal Justice and Law Enforcement Administration

Health Service Preparatory Studies

Sport and Fitness Management
More
New Center for Innovation and Research in Engineering and Computational Sciences
The College celebrated the official opening of its newest addition to campus, which will serve as a hub for Merrimack's expanding STEM education and research infrastructure.
Programs Offered Entirely Online
Online Certificate Programs
Online Associates Programs
Online Bachelor's Programs
Mix of Online and on Campus

17%

On Campus

81%

Online

2%
Poll
What one word or phrase best describes the typical student at this school?
Upper middle class

38%

Middle class

13%

Varies

13%

Up tight and mean.. high school V2

10%

Outgoing

8%

Very wealthy

8%

Stressed

5%
More
Poll
55%
of students say Greek life is pretty low-key and has little effect on the social scene.

62 responses
Poll
64%
of students say varsity sports are a big part of campus life.

70 responses
Poll
What one word or phrase best describes your school?
Community

38%

Small but exciting

21%

Judgemental

13%

Over-Priced

13%

Lack of diversity

8%

Home away from home

5%

Focused

3%
More
Median Earnings 6 Years After Graduation
Employed 2 Years After Graduation
76%
of students feel confident they will find a job in their field after graduation.

21 responses
Merrimack College Reviews
Rating 3.61 out of 5
633 reviews
Merrimack College is a great place to flourish into becoming yourself. There is an abundance of resources from the Arcidi Center to the staff to Warrior One Stop that all want to see you succeed. It is a tight knit community so there are always events going on around the campus if you ever need a distraction from the workload. Merrimack provides such an easy way to get involved on campus and get connected to the professors through the 20-person class size. I definitely recommend Merrimack College to anyone who wants a fun, beautiful and tight knit campus!

The one thing I do like about this school is the professors. Most of my professors are available for help at anytime and I feel like the courses here are relatively easy. High school was harder than this, maybe its because I took all APs but idk. However, the social life here sucks. And the food is god awful. Nobody is emotionally mature enough and its basically high school 2.0. If you want that vibe, go here. If not, run!

The school is small and in a suburban location. It is a bit secluded and can seem a bit overwhelming at times. Though you are an uber ride away from the train station to Boston which makes for a fun night. A great comfortable school where you will meet a ton of people from all different backgrounds. Merrimack is a D1 school so the sports are awesome to watch and get packed quickly due to the small athletic complex(s). Campus police are awesome and super helpful. Party scene is small, NO FRAT HOUSES! Frat parties are in on-campus apartments. Club/Varsity sports also party. Merrimack can get really boring fast if you don't get included. Meet people and try different groups/organizations. A great school if you want to grow yourself, though if you sit around and expect a good time to follow you, then you will be out of luck.