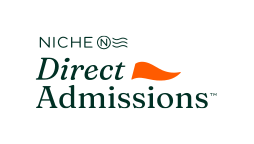 Marymount University
Overall Grade
4 Year
ARLINGTON, VA

Rating 3.69 out of 5

870 reviews
Direct Admissions
From Marymount University
An engaged, diverse, electric learning community just five Metro stops from Washington, D.C.
Marymount University is all in! A university that provides intimate classes and incredible personal attention. An island of inspiration, a launching pad for careers, and a close, ethical learning community, minutes from the center of everything.
A wide range of financial aid options and competitive scholarships are available to make your Marymount education (and all the possibilities that come with it) possible.
Learn with purpose, live with purpose!
Upcoming Events
Arlington, VA

View Event Description

If you've been #admitted2MU, this event is for you! We're thrilled to offer three Admitted Students Day events this year. These events are an excellent opportunity to visit our beautiful campus in Arlington, Virginia, meet President Irma Becerra, Ph. D, hear from current students about what makes Marymount so special, and learn more about your intended major from our expert faculty! Please register for the date that works best for your schedule. We look forward to welcoming you to campus this spring!
Marymount University Rankings
Niche rankings are based on rigorous analysis of key statistics from the U.S. Department of Education and millions of reviews.
Neither required nor recommended
Will You Get In?
Will You Get Into Marymount?
Test Scores and High School GPA for Marymount University See Other Colleges
Average cost after financial aid for students receiving grant or scholarship aid, as reported by the college.
Average Total Aid Awarded
Students Receiving Financial Aid
Professors
Based on faculty accomplishments, salary, student reviews, and additional factors.
85%
of students agree that professors put a lot of effort into teaching their classes.

39 responses
71%
of students agree that it is easy to get the classes they want.

59 responses
64%
of students agree that the workload is easy to manage.

59 responses
Most Popular Majors
Health Service Preparatory Studies

Criminal Justice and Law Enforcement Administration

Political Science and Government
More
Careers in STEM
Marymount prepares students to successfully pursue careers in the Science, Technology, Engineering, and Math (STEM) fields.
Programs Offered Entirely Online
Online Certificate Programs
Online Associates Programs
Online Bachelor's Programs
Mix of Online and on Campus

49%

On Campus

45%

Online

6%
Poll
What one word or phrase best describes the typical student at this school?
Motivated

27%

Conservative

24%

Talented

17%

Spirited

15%

Outgoing

5%

Driven

2%

Nerdy

2%
More
Poll
77%
of students say they don't have Greek life.

62 responses
Poll
46%
of students say varsity sporting events are attended, but not a huge part of campus life.

76 responses
Poll
What one word or phrase best describes your school?
Small

40%

Common ground

15%

Diverse

15%

Greedy

10%

Inclusive

8%

Helpful

6%

Awsome

2%
More
Median Earnings 6 Years After Graduation
Employed 2 Years After Graduation
92%
of students feel confident they will find a job in their field after graduation.

24 responses
Marymount University Reviews
Rating 3.69 out of 5
870 reviews
Marymount University is a great school!
It's a hidden gem in the heart of Arlington, Virginia, a few minutes away from the nation's capital. With a breathtaking campus rich in diversity, a privileged location, and an active student body proud and motivated of representing their school through academics, athletics, conferences, and volunteering work.
Without a doubt, Marymount is a school to consider if you're looking to become a leader with the capacity to leaving a fingerprint in any community.
I would like to thank President Dr. Irma Becerra for giving my peers and I numerous opportunities to grow as self sufficient individuals looking for a brighter future. This past month, I attended the Hispanic Association of Colleges and Universities annual conference in San Diego, California, alongside 4 of my peers, Richard McNab, and Dr. Becerra where we learned about how to improve on our leadership and networking skills. I will always be grateful for the opportunities MU has given me.

I am thrilled to share my experience as a student at MU. From the moment I stepped foot on campus, I knew I had found the perfect institution for my educational aspirations. MU is an extraordinary place that truly embodies excellence in education, fostering personal growth, and nurturing a vibrant community. One of the standout features of MU is its exceptional faculty. The profs are not only highly knowledgeable and accomplished in their fields but also deeply passionate about teaching. They go above and beyond to create an engaging and intellectually stimulating environment, encouraging students to think critically and explore their full potential. The dedication of the faculty to student success is evident in their accessibility and willingness to provide guidance and support both inside and outside the class. MU offers a wide array of clubs, org, and extrac activities that cater to various interests, allowing students to pursue their passions and develop leadership skills.

Marymount has provided me with ample opportunities to explore my field of study and determine my career path. Since my freshman year, I engaged in medical research, which has led to presenting new findings at six research conferences and counting, performing laboratory techniques, and creating connections with students and professors throughout the DMV. These academic opportunities were enhanced by an international community service network, which allowed me to use my knowledge and skills to better the lives of those living in third-world countries. This holistic academic experience has prepared me for the next stages of a graduate education and a future career in healthcare.