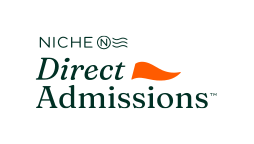 Gwynedd Mercy University
Overall Grade
4 Year
GWYNEDD VALLEY, PA

Rating 3.62 out of 5

375 reviews
Direct Admissions
About
NCAA Division III (without football)
From Gwynedd Mercy University
At Gwynedd Mercy University, you will see and be seen, hear and be heard, know and be known. That's because GMercyU is large enough to offer the academic, athletic, and real-world learning opportunities you're looking for, but small enough that your professors know you by name.
Gwynedd Mercy University Rankings
Niche rankings are based on rigorous analysis of key statistics from the U.S. Department of Education and millions of reviews.
Considered but not required
Will You Get In?
Will You Get Into GMercyU?
Test Scores and High School GPA for Gwynedd Mercy University See Other Colleges
Average cost after financial aid for students receiving grant or scholarship aid, as reported by the college.
Average Total Aid Awarded
Students Receiving Financial Aid
Professors
Based on faculty accomplishments, salary, student reviews, and additional factors.
91%
of students agree that professors put a lot of effort into teaching their classes.

23 responses
79%
of students agree that it is easy to get the classes they want.

34 responses
68%
of students agree that the workload is easy to manage.

34 responses
Most Popular Majors
Police and Criminal Science

Health Service Preparatory Studies

Social Work and Youth Services
More
Major in Nursing
One of the most established nursing programs in the Philadelphia area, GMercyU has built a reputation for innovation and leadership in nursing that spans more than 60 years. We have a long history of preparing excellent nurses who not only have outstanding clinical skills, but are known for providing compassionate care that focuses on the whole patient.
Programs Offered Entirely Online
Online Certificate Programs
Online Associates Programs
Online Bachelor's Programs
Mix of Online and on Campus

26%

On Campus

73%

Online

1%
Poll
What one word or phrase best describes the typical student at this school?
Studious yet partiers

35%

Noses in the books.

22%

Outgoing

17%

Studious

17%

Stressed

4%

Unsure I have yet to start

4%
More
Poll
79%
of students say they don't have Greek life.

38 responses
Poll
56%
of students say varsity sports are a big part of campus life.

43 responses
Poll
What one word or phrase best describes your school?
Friendly

48%

Very homelike.

17%

Upbeat

14%

Homey

7%

Strict

7%

Home away from home

3%

Underrated

3%
More
Median Earnings 6 Years After Graduation
Employed 2 Years After Graduation
95%
of students feel confident they will find a job in their field after graduation.

19 responses
Gwynedd Mercy University Reviews
Rating 3.62 out of 5
375 reviews
I am so proud to say I graduated from The Respiratory Program at Gwynedd Mercy University, not only has the program prepared me for my new career but it has given me skills in everyday life, like time management and communication skills. I am so thankful for my professors because I would have not made it through without their help, they truly care about Respiratory which in turn makes us students better RRT's once we are out working ourselves. I am so glad to hear about the success rates in the Respiratory program and I look forward to hearing more down the road!

I was a graduate of the respiratory care program. I can personally tell you the program professors go above and beyond to make sure you're ready for the real world profession of respiratory care. You come out of the program well rounded with knowledge, confidence, and well prepared with everything you need to pass your Respiratory Care Exam boards. Gwynedd Mercy's Respiratory Care program is well respected and I work with some of the best colleagues out there!

I had a great experience at Gwynedd as an international student in the Respiratory Care program. The classes were not too small or too big, which helped me build a connection with my classmates and professors. Professors were always willing to go out of their way to answer questions and simplify difficult materials. My program definitely prepared me for the board exam. I also had a good experience in my clinical rotation because I went to various hospital and got to see what the Respiratory field is like for Adults, pediatrics, and neonates. There were many clubs on campus which helped me socialize and enjoy my on-campus experience with students from different majors. Overall, I think Gwynedd was a good University that provided a lot opportunities and experience for me as a student.