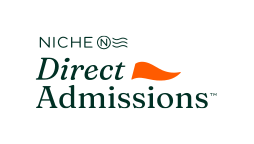 Clarkson University
Overall Grade
4 Year
POTSDAM, NY

Rating 3.76 out of 5

919 reviews
Direct Admissions
EARN A CLARKSON SCHOLARSHIP BY SHOWING UP!! Did you know that by visiting campus you will automatically earn our Visit Clarkson Scholarship, valued at $4,000 ($1,000 per year for up to four years of study)? Submit your application by December 1st for the Early Decision Admission deadline. Learn More
Clarkson is a private, national research university and proven leader in technological education and sustainable economic development. Through more than 90 rigorous programs of study in engineering, business, the sciences, education, and health professions, we educate over 4,300 students and pursue interdisciplinary research, scholarship, teaching and innovation. We ignite connections across academic disciplines, industries and cultures to create the entrepreneurial mindset, knowledge and intellectual curiosity needed to innovate world-relevant solutions and prepare the leaders of tomorrow. Our alumni earn salaries that are among the top three percent in the nation and realize accelerated career growth.
Clarkson University Rankings
Niche rankings are based on rigorous analysis of key statistics from the U.S. Department of Education and millions of reviews.
Considered but not required
Will You Get In?
Will You Get Into Clarkson U?
Test Scores and High School GPA for Clarkson University See Other Colleges
Average cost after financial aid for students receiving grant or scholarship aid, as reported by the college.
Average Total Aid Awarded
Students Receiving Financial Aid
Professors
Based on faculty accomplishments, salary, student reviews, and additional factors.
86%
of students agree that professors put a lot of effort into teaching their classes.

36 responses
69%
of students agree that it is easy to get the classes they want.

65 responses
42%
of students agree that the workload is easy to manage.

65 responses
Most Popular Majors
Logistics and Supply Chain Management
More
Clarkson's Direct Entry Program
Students interested in physical therapy, occupational therapy or physician assistant studies have the opportunity to enroll in Clarkson's Freshman Direct Entry program. Freshman Direct Entry provides a guaranteed spot in our DPT in physical therapy, MS in occupational therapy or MS in physician assistant studies programs to select first-year applicants.
Programs Offered Entirely Online
Online Certificate Programs
Online Associates Programs
Online Bachelor's Programs
Mix of Online and on Campus

16%

On Campus

84%

Online

0%
Poll
What one word or phrase best describes the typical student at this school?
Ambitious

27%

Multicultural, intellegent, hardworking

23%

White, nerdy, conservative and ambitious

20%

Nerdy, involved

14%

Stressed

7%

A little nerdy, ambitious, kind, and determined!

5%

Outdoorsy

2%
More
Poll
59%
of students say that Greek life is average, and no one will treat you differently if you don't join.

74 responses
Poll
51%
of students say varsity sports are a big part of campus life.

88 responses
Poll
What one word or phrase best describes your school?
Academic

47%

Innovative

26%

Home away from home

5%

Trying

5%

Underrated

5%

Fast-paced

3%

Not worth the tuition.

3%
More
Median Earnings 6 Years After Graduation
Employed 2 Years After Graduation
96%
of students feel confident they will find a job in their field after graduation.

25 responses
Clarkson University Reviews
Rating 3.76 out of 5
919 reviews
My experience overall at Clarkson has been very positive! After things cleared up following the pandemic, and restrictions were loosened, Clarkson has been amazing. What sets Clarkson apart from other schools is the student body. It is such a welcoming and friendly group of students and I have truly met some of the most amazing people at Clarkson. As a member of the biology and psychology programs, I have also gotten to work with some amazing professors. If you seek it, there are ample opportunities for students!

Clarkson is not just an engineering school! They have really awesome sustainability opportunities. The ISE (Institute for a Sustainable Environment) is amazing! We compost on campus, have a student bike rental, and lots of pollinator projects. Additionally, we have cool sustainability clubs like sustainability club, engineers for international sustainability, garden club and outing club. Professors are so kind, helpful, and want you to succeed. I thought I would hate it here but I love it!

I have really enjoyed my time at Clarkson. The professors are always willing to help students better understand concepts, and you can really build a relationship with them. There are many resources on campus for students from tutoring, undergraduate research, and job search help. It is just a matter of you taking the initiative to reach out and ask. There is also a really strong alumni network which is great for job hunting!